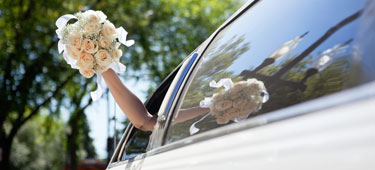 Allen Limousine is pleased to provide you with top-quality wedding transportation services to make your special day more enjoyable and memorable. Whenever you or people you love start planning a wedding, it's vital to make certain every detail is thoroughly organized and fits your needs and expectations. No matter how many guests are invited to your wedding, you want every person to have the best memories about your special day, and quality transportation services mean a lot for the bride and the groom. 
Our professional team has the needed knowledge and skills aimed to provide you with a perfect wedding transportation package that will fit your needs and budget. Our reputation has been built upon our licensed drivers, an impressive fleet of vehicles, and competitive prices that appeal to many couples planning their wedding in Dallas. 
If you are looking for a company that can transport your guests in top-of-the-line charter buses,  ​Allen Limousine is right here at your disposal. We are proud to have one of the largest fleets of vehicles in Dallas. Our modern and comfortable buses are perfect for your wedding day. No matter how many people are invited and whether you want to have an intimate or a big party,  ​Allen Limousine provides exceptional wedding transportation services that you will recommend to your friends. 
Let us know your needs and expectations, and our professional team will arrange the wedding transportation for you from the beginning to the end. We'll create a plan of picking up your guests taking them to the church, restaurant, and back using our coach bus. Are you planning a wedding at an exotic place? We'll take care of transporting your guests wherever you wish.