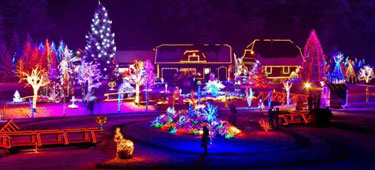 Come to Dallas to enjoy holiday lights as Allen Limousine takes care of your transportation all around the city. Holidays are the best time to explore the DFW metroplex area and enjoy the view of beautifully decorated houses and streets. Whenever you are looking for a company that can take you on a ride to enjoy the Prairie Lights, department store lights, holiday events, Highland Park Christmas Lights, or whatsoever, Allen Limousine is always at your disposal. We know where to take you on the holiday season to enjoy the view and feel like you are in a fairy tail.
No matter in you live in Dallas or come here for a weekend, there are always many things that you can explore. Invite your friends to travel around the city and enjoy the holiday lights as you travel in our comfortable luxury vehicles. Allen Limousine is proud to have one of the largest fleets of luxury vehicles in the DFW area. No matter how many of you order the holiday lights limo tours from us, we will always have the right vehicle to please your needs. 
There are many locations to visit in Dallas. Our chauffeurs know them all and will be happy to take you on a tour. Contact Allen Limousine today to order the holiday light limo tour today. Travel in comfort and safety in the company of your loved ones, family, and friends.