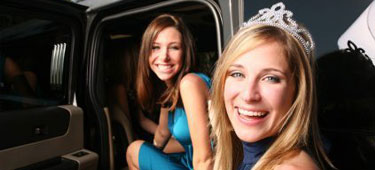 Celebrate your prom in style and comfort as you and your friends drive our luxury vehicles. At Allen Limousine, we let you choose from a large fleet of stylish and comfortable cars that can accommodate both small and large groups of people. Our company provides professional and responsible prom limousine services that everyone involved will enjoy and remember. 
By ordering the prom limousine transportation services from Allen Limousine, you and your prom friends will enjoy the comport and grand luxury of our vehicles. We are proud to have one of the most impressive and largest fleets in Dallas, DFW. We want you and your friends to enjoy your prom party to the fullest and we'll do our best to let you have only positive memories about our services. 
Our professional team will take care of bringing to life every idea that comes to your mind. Do you want us to roll out a red carpet upon arrival? Not a problem! We want you and your friends to feel special on your prom night. We'll take care of making a custom plan for you and keep sticking to it to make your party more memorable. 
We ensure our vehicles are comfortable and safe. Our drivers are experienced and well-trained. We know how to make your prom transportation extra special. Give us a call and let's discuss your celebration details.